Suzuki didn't have a sexy beginning

.

Suzuki Motor Corp. wasn't born out of a high end race program like Ferrari; it wasn't the product of a supercar grudge like Lamborghini or even born from motorcycles and F1 cars like Honda. No, when Michio Suzuki founded Suzuki Loom Works in 1909 cars were not even a blip in the horizon. Suzuki built its first motorcycle in 1952 and has made millions of motorcycles since, ranging from tiny commuter bikes to the outrageous 1300 cc Hayabusa. Motorcycles were and always have been a huge part of Suzuki's heritage and design ethos. But today we're profiling the significant cars built by Suzuki with that unique DNA.
Suzuki can trace its automotive roots right down to the awkward and agricultural looking 1955 Suzulight. Weaker than a watered down shirley temple and looking like a startled John Deer/Trabant hybrid the Suzulight did bring some things to the table that would be carried through the years as staples of Suzuki's concept and ethos. The Suzulight featured water cooling, front wheel drive, fully independent suspension front and rear as well as rack and pinion steering.
Through the decades, this would prove to be Suzuki's calling card: putting high end technology into affordable reliable packages. Their motorcycle racing heritage undoubtedly aided them in this.
Suzuki continued making many affordable and rugged 4x4's and Kei trucks for decades after the Suzulight but didn't really hit a home run in the car segment until the introduction of the Cultus. Introduced in 1983, the versatile front drive platform has seen three generations and is still in production today. The boxy first generation spanned from 1983 to 1988 and the more familiar "Geo look" second generation were produced from 1989 to 1991. It was on these Cultus platforms that Suzuki would create some of their best performance variants.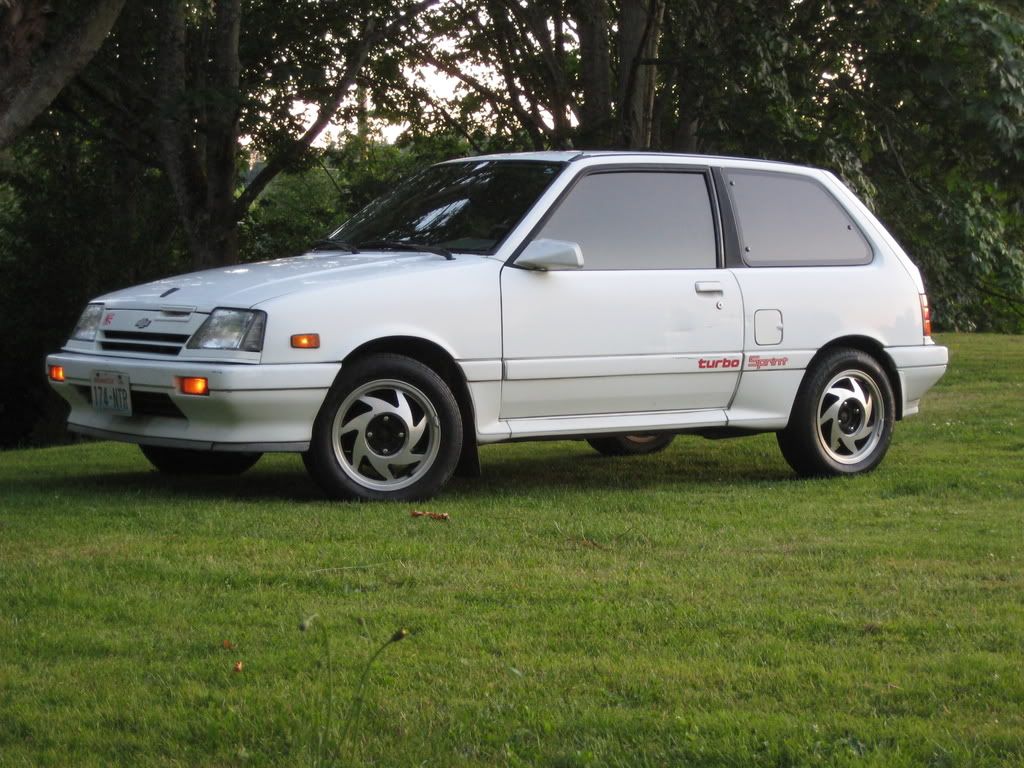 A mint MK1 Chevy Turbo Sprint with non-original wheels. Image courtesy of jv&ts @ teamswift.net
Starting in 1986 Suzuki offered a turbocharged version of its 1 litre three cylinder in the Cultus. Sold as the Chevy Sprint in North America, the diminutive SOHC engine featured 70 horsepower, a tiny intercooler and earned 37/43 miles per gallon. Shit happens when you only weigh 1,700 lbs!
Steering wheel from a 1989 MKII Swift GTi
Incredibly, the Sprint Turbo wasn't their only performance offering for the Cultus. Suzuki surprised many by introducing the incredibly advanced Swift GTi in 1986. (It was renamed the GT in 1990 due to VW raising a fuss) Though the MKI chassis was fairly rudimentary with a beam rear axle, rear drum brakes and boxy design, its engine was anything but. The revvy 1.3 litre four cylinder featured dual overhead cams, multipoint EFI, aluminum block and head, tubular headers, hollow camshafts and a 7,400 RPM redline (in North American Markets) Making 101 horsepower at a eye watering 6,500 RPM. Considering the base three cylinder made 55 horsepower, this was quite the jump. How many performance variants do YOU know that offer a nearly 190% power boost? The GTi was a tightly sprung little box of silliness that actually had terrific racing success in Australia at Bathurst and other tracks.
I do apologize for rambling a bit here but you see, this is my very own MKII Swift GTi. Her name is Lily and she runs on skittles and liquid happiness. ANYWAYS!
The DOHC GTi engine used many features that were on par for high end sportscars of the day.
Suzuki has partnered with many different companies over the years to joint-produce autos. But when they partnered with Mazda to create a mid-engined kei sportscar, things got interesting. Suzuki provided the engine, transmission and other influential concepts to Mazda to create the Mazda AZ-1/Suzuki Cara. Sold under Mazda's Autozam lineup it featured a DOHC turbocharged 657 cc 12 valve three banger. With about 4500 sold as Mazdas and just under 500 sold as Suzuki Caras between 1992 and 1994 they are indeed rare birds. They were never sold outside Japan though you can (thankfully) import them into Canada.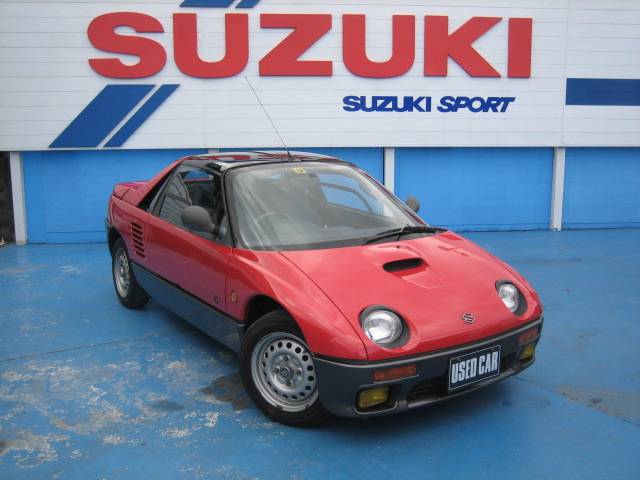 The Suzuki Cara featured distinctive gullwing doors
When Suzuki went out to make their own kei sportscar, they went an entirely different direction than the Cara. If you have ever wondered what your Shelby Series 1 (Google it yo!) would look like at about 2/3 scale wonder no more! The hilariously named Suzuki Cappuccino was a lilliputian two seat roadster with the aforementioned 657 cc turbo engine from the Cara. The rear drive, front engine roadster weighed only 1,600 pounds. Dwarfed by vehicles such as the massive Miata, the Cappuccino's size and drive layout made it a track day favorite among people who wanted to go slow in a very interesting way.
The tiny Cappuccino roadster
Now Suzuki is still in business and going strong in India, Pakistan and Japan. With a weak dealership network and poor marketing, Suzuki's future in North America is uncertain. But one thing isn't: from the rudimentary Suzulight to the modern Swift Sport, they remain a company devoted to bringing reliable fun models to the market. But if history is one thing to go by, there's no telling what one of Japan's weirdest automakers will do next.